In this Getresponse review, I've gone through every feature of Getresponse in-depth to help you determine whether or not Getresponse is right for you.
Let's jump into all the exclusive features of Getresponse and look at why Getresponse has become the most popular email marketing automation software.
What is GetResponse?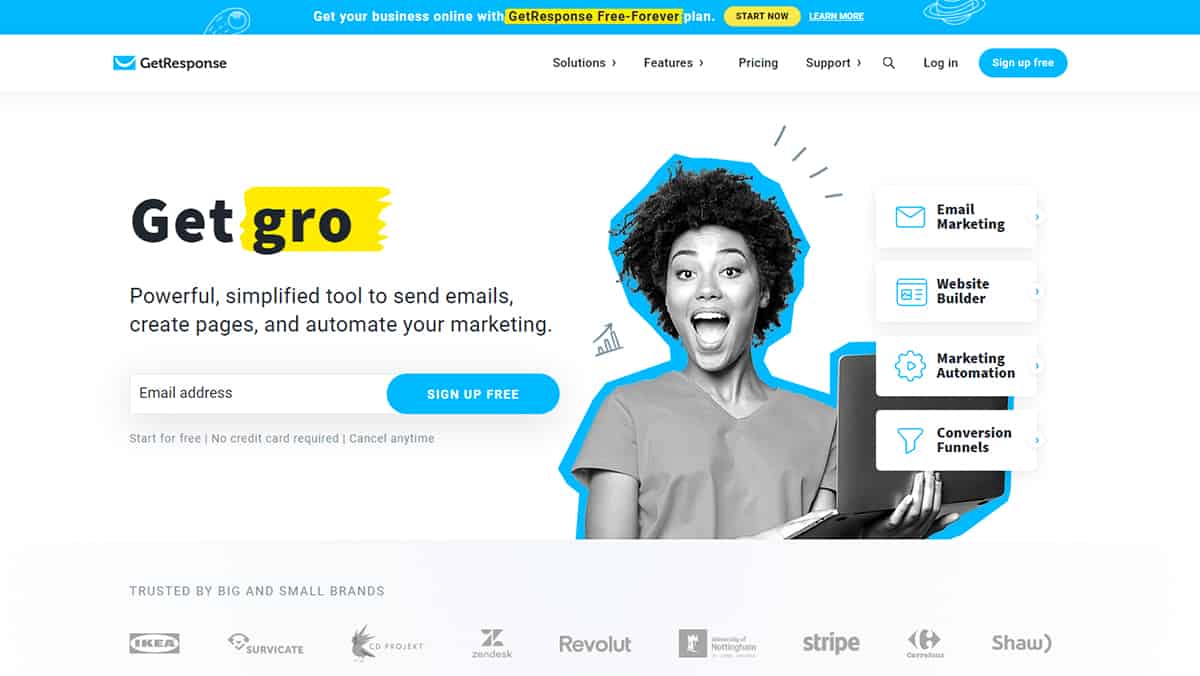 GetResponse offers email marketing tools for creating a MailChimp List and collecting data. The company was established in Poland in 1998 and primarily aimed at creating simple email messages.
However, in the past decade, GetResponse has significantly changed its emphasis and is now focused on becoming a full-fledged e-commerce marketing platform instead of a 'traditional email' platform.
Affiliate Disclosure: AmiyaNandy is providing the best reviews and tips on technology, gadgets, software, and services. My editorial team is independent and works hard to bring you the best content. If you buy any product from our affiliate links, I may get a small commission from the sale at no extra cost to you.
My picks of 2022's best cheap web hosting services
Getresponse is easy to use, automating email marketing software with loads of features like email marketing, website builder, marketing automation, and a built-in sales funnel.
Getresponse is situated at Gdańsk, Poland, created as an email autoresponder. Getresponse was founded in the Year 1998.
Get response offers a Free Forever Plan without collecting your payment information or credit card details and gives you complete privacy protection of your account. Getresponse Free Forever Plan costs zero dollars, and it will be free for any user till their website or landing page reaches 500 contacts.
Here is what you will get in Getresponse – Getresponse Features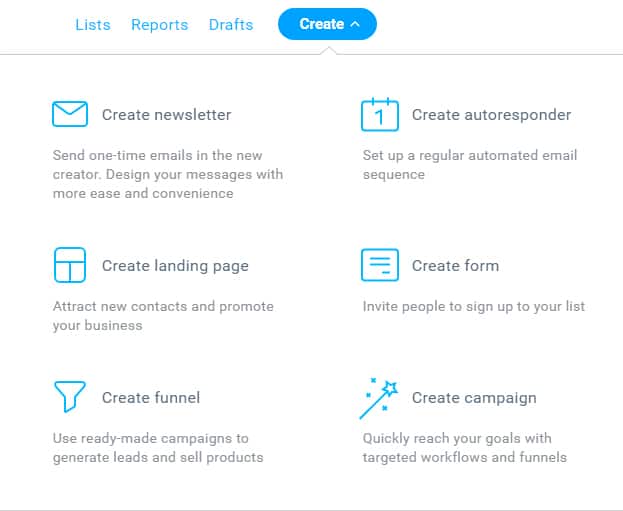 When you subscribe to the basic plan, you will see these options on the Getresponse dashboard.
Email marketing
Website page builder
Marketing automation toolkit
Webinars
Paid ads
Website landing pages
Conversion sales funnel creation
24×7 Live chat support
Web push notification for website
Sms marketing
Website owners and bloggers of all sizes and genres can use the Getresponse. It now claims to have assisted over 3,50,000 customers and integrated over 125+ separate areas.
Getresponse has been serving for over 20+ years on the web, and 30+ tools are available for bloggers and email marketers.
Getresponse is easily integrated with 100+ third-party CMS, Plugins, and tools to run your marketing campaigns, and you will not have to hire any developer to do this.
You can connect any eCommerce, CRM, and CMS platforms with Getresponse without hassle.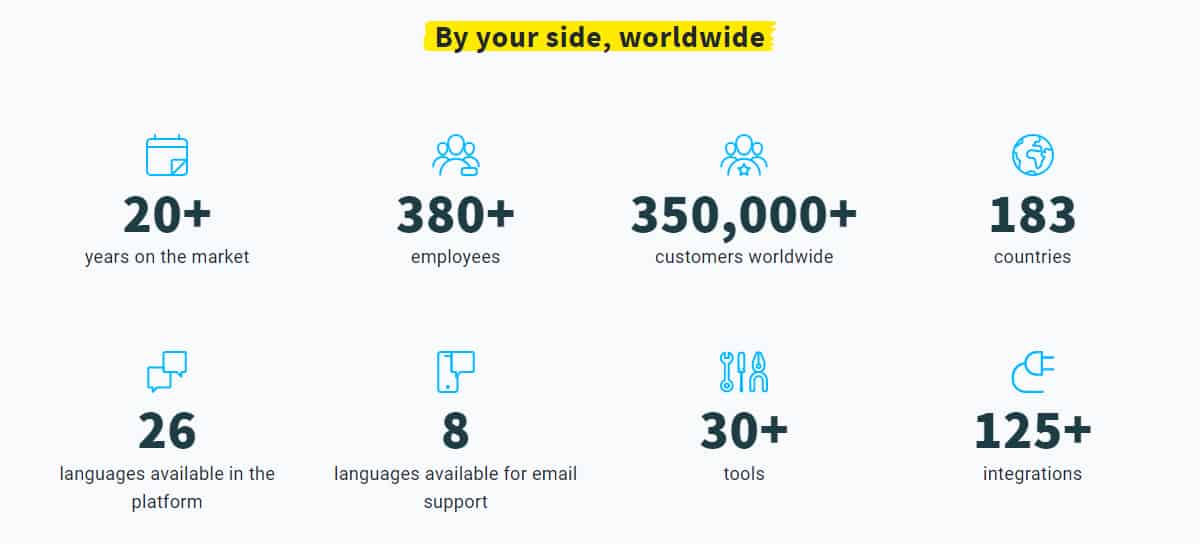 Is GetResponse free to use?
Getresponse is free if you have just started thinking about launching your email marketing campaign.
Also, you can use Getresponse without paying anything if you want to create your marketing sales funnel and if you still do not build your email list.
Getreponse is free till you collect 500 contacts on its platform.
Getresponse Free Forever plan is available to signup free till you collect 500 contacts on your email list.
What you will get with the Getresponse Free Forever plan:
You can build and host one website with 5 GB of bandwidth.
You can make a connection with your domain.
You will get Search Engine Optimization tools to build your traffic.
You can secure your website with an SSL certificate.
You can create your first landing page.
Stunning contact form for lead capture.
You can get free access till you reach 500 contacts.
You can send an unlimited number of emails and still have Free access.
Excellent drag-and-drop email design tools.
Ready-to-use email templates and many more.
Getresponse is a money-saver for bloggers and website owners who want to get paid by massive opportunities in email marketing and building funnels.
How To Start Free Plan?
If you want to start an email autoresponder and do not want to share your credit card information, then avail of the Free Forever Plan that Getresponse offers.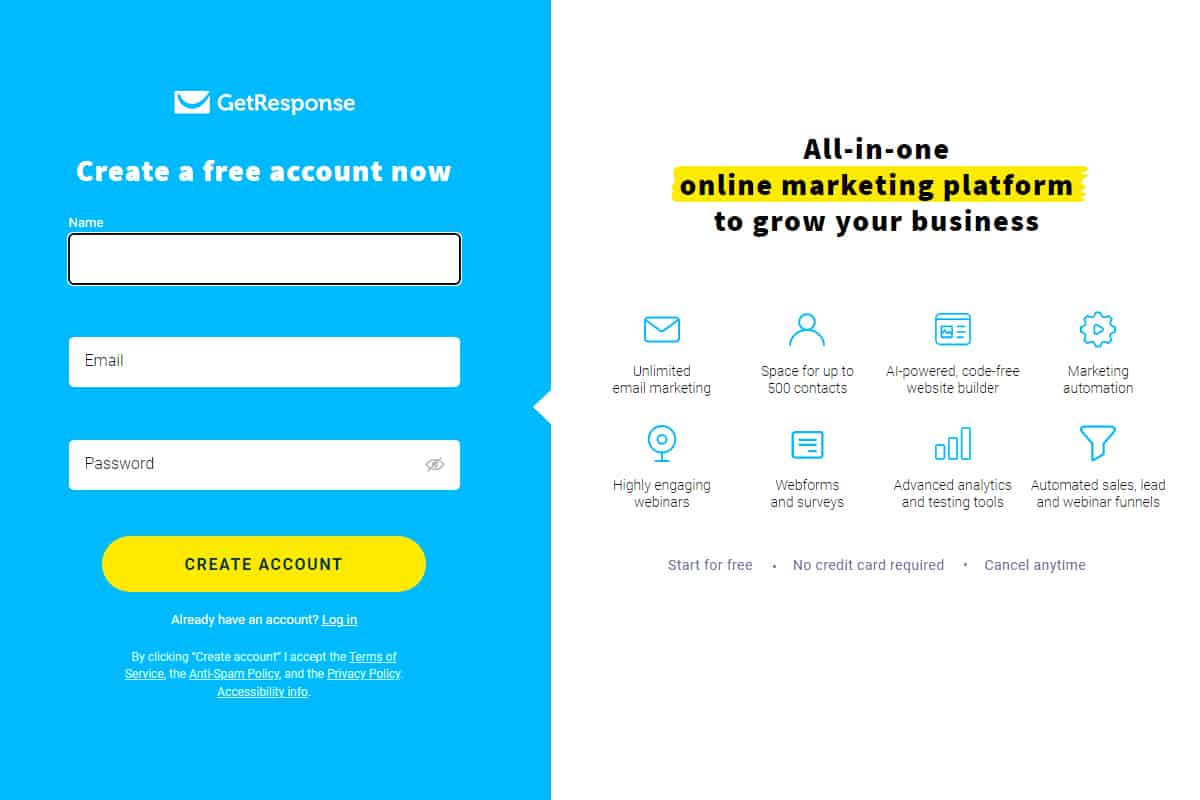 After entering your name, email address, and the new password, click create account to start Getresponse free account.
You will be prompted to very your email address after registering with Getresonse, and you will get an email from Getresponse.
Verifying your email, you will be redirected to the Dashboard setting page, and you will answer some queries to create your dashboard with Getresponse better.
Though you can skip those steps, for now, you can set it later.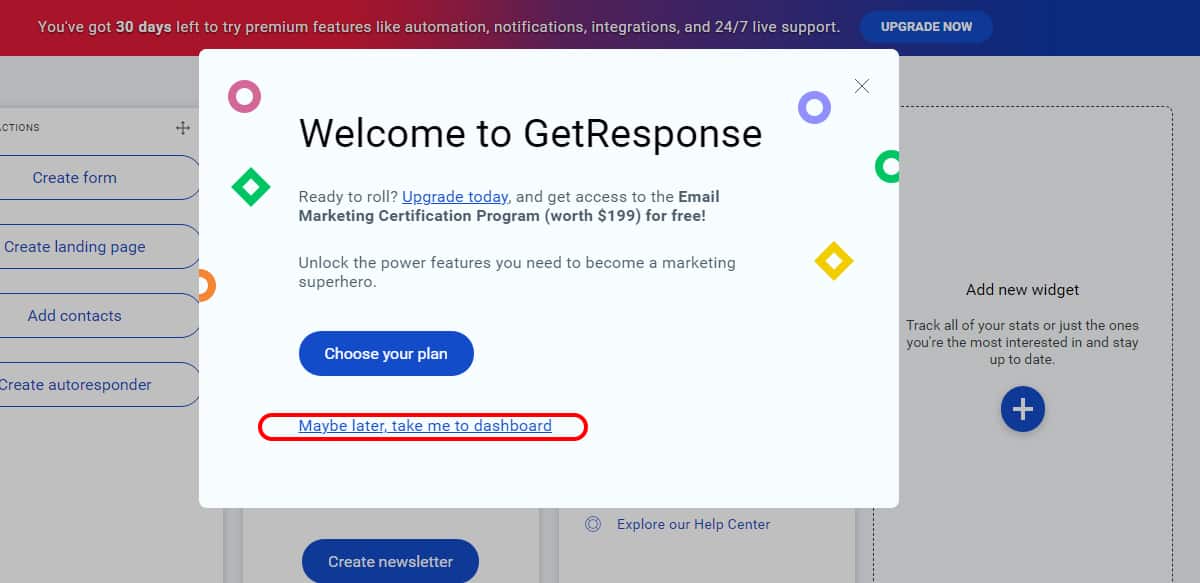 Next, you will see a notification to upgrade. You will just select "Maybe later, take me to dashboard. "
On the dashboard top-left area, you will see 9 dots Men area. From where you will see powerful two tools, i.e., Communication Tools & Growth Tools, to start your email marketing and lead capture journey for free.
Getresponse Every Feature:
Let's cover every feature and how you will you use the Getresponse email autoresponder to get the best results.
Email marketing
Autoresponders
Automation
Webinars
Web push notifications
Chat
Conversion Funnel
Landing pages
Forms
Paid ads
Website builder
Now, let's start one by one Getresponse review and every powerful tool in detail.
1. Getresponse Email Marketing
Email marketing is a tool that can be used to reach a large audience with minimal effort. Getresponse is an email marketing service that provides users with various features to make their email marketing campaigns more effective.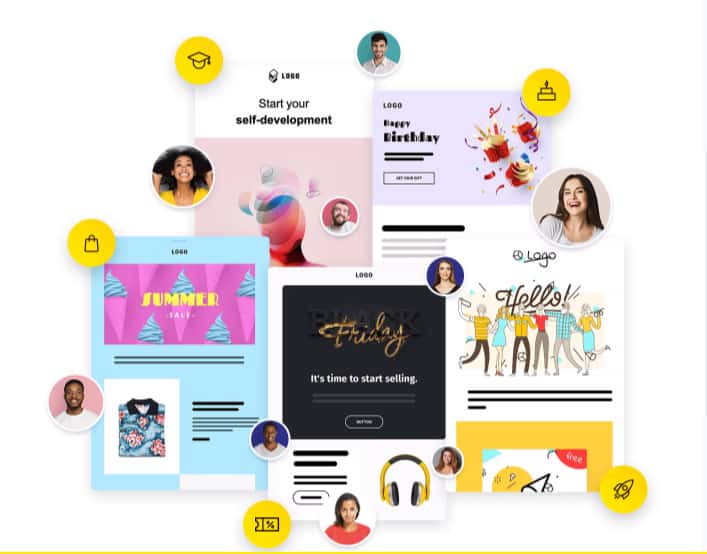 Getresponse offers many templates, autoresponders, and other tools to help users create and manage their email marketing campaigns. Getresponse also provides users with detailed reports and analytics to track their campaigns' performance.
Email marketing is a powerful tool that can reach a large audience with minimal effort. Getresponse makes it easy to create and manage email marketing campaigns with its wide range of features and tools.
Getresponse also provides users with detailed reports and analytics to track their campaigns' performance. Getresponse is the perfect solution for businesses of all sizes who want to make the most of email marketing.

2. Autoresponders
Automated email sequences to grow conversions.
Autoresponders are messages sent automatically to customers based on time or a certain occurrence. When used appropriately, autoresponders may be a highly effective and easy aspect of an email marketing plan.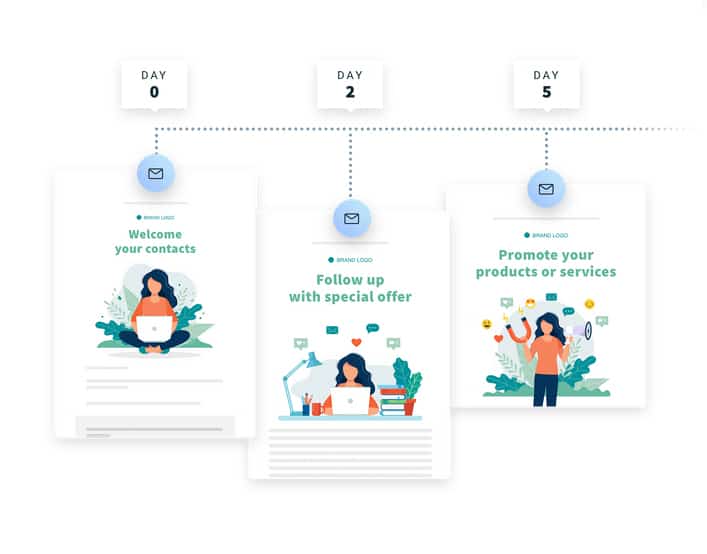 All features in one place: Send emails from the same platform where you're growing your list and engaging with prospects.
Easy design tools: Design using drag-and-drop simplicity and template sets that correspond to your campaign's objectives.
Prompt delivery and a higher rate of reading: Set up automated distributions depending on the start of your subscription, with delays, or at certain times.
See who can open and take action: Analyze the performance of your autoresponder campaign and make adjustments as needed.
3.GetResponse Email Automation Features
GetResponse is an all-in-one online marketing platform that helps you grow your business. GetResponse offers a complete set of tools to create, manage, and optimize your email marketing campaigns.
GetResponse's email automation features allow you to create sophisticated email marketing campaigns triggered by specific actions or events.
GetResponse's drag-and-drop email builder makes creating beautiful, responsive email templates easy. GetResponse also offers a wide range of integrations with third-party applications, making it easy to connect your email campaigns with your other marketing tools.
GetResponse's powerful reporting and analytics features give you insights into your campaign performance so you can optimize your campaigns for better results.
GetResponse's email automation features are the perfect way to take your email marketing to the next level.
4. Webinars
Getresponse is a powerful email marketing and automation platform that provides users with everything they need to create, manage, and optimize their online campaigns. GetResponse also offers a range of features specifically designed for webinars, making it an ideal solution for businesses and organizations that want to take advantage of this powerful marketing tool.
Some of the key features GetResponse offers for webinars include:
A dedicated webinar platform that is easy to use and set up
A wide range of templates and tools to help you create professional-looking webinars
The ability to simulate live events so that you can practice and perfect your presentation
A library of on-demand webinars that you can watch at your convenience
Robust marketing and promotional tools to help you promote your webinars and get more people attending
GetResponse makes it easy to create and deliver professional webinars that will engage and convert your audience. With GetResponse, you have everything you need to make your webinars a success.
5. Web Push Notifications
Web push notifications increase the number of visitors to your website.
Web push notifications can help your website's traffic and conversions.
Custom opt-in notifications can help you get more push subscribers.
Web push notifications are a great way to immediately get in touch with your site's visitors. In one click, send appropriate opt-in messages to new push subscribers.
Create a compelling message to entice them to join.
To attract visitors' attention, use distinctive colors. Stay on the brand by including your emblem or logo.
In no time, you'll have more push subscribers.
6. Chat Service
Make more sales by chatting directly with your consumers.
Web chats allow you to communicate with, engage, and assist your consumers online.
Chats may be started right from your landing pages.
You can add a live chat window to your landing page with just one click. You may chat live with website visitors even if they haven't yet joined your email list.
Include a chatbox on your landing pages.
Use GetResponse Chats to engage with clients and prospects on your website.
7. Marketing Automation Tools
Getresponse is a great automation platform. An automated workflow makes this an excellent email marketing platform for businesses. After opening Automation Menu, I saw the navigation bar.
Those menus seem to fit the needs of the marketer.
These submenus contain automated templates for your start. Since our review is underway, welcome automation has been created.
Create welcome automation Create a welcome automation for new users. I begin with the template for automata.
I already knew this when I clicked, but the pictures look good.
8. Conversion Funnel
The conversion funnel feature is the most advanced feature that Getresponse offers on its lower plans.
If you are planning to grow your sales even when you are a small eCommerce owner, then you can build Getreponse sales funnels that help you to automate your email marketing and help you grow your sales as well.
If you do not have a website to test what kind of sales you can get to your new eCommerce idea, you can start selling through Getresponse automated sales funnels.
You will have options like opt-in funnels lead magnet you can create, and you will also have the option to make automated webinar funnels in Getresponse.
With the help of the Getresponse conversion funnel, you can :
Feature your products
Create social media campaigns
Create automation workflows
embed payment gateway
send automated abandoned cart emails too
9. Landing Pages
Getresponse's landing pages feature an awesome tool to get leads and convert your visitors to loyal customers, and you can also use it as a lead magnet to capture leads.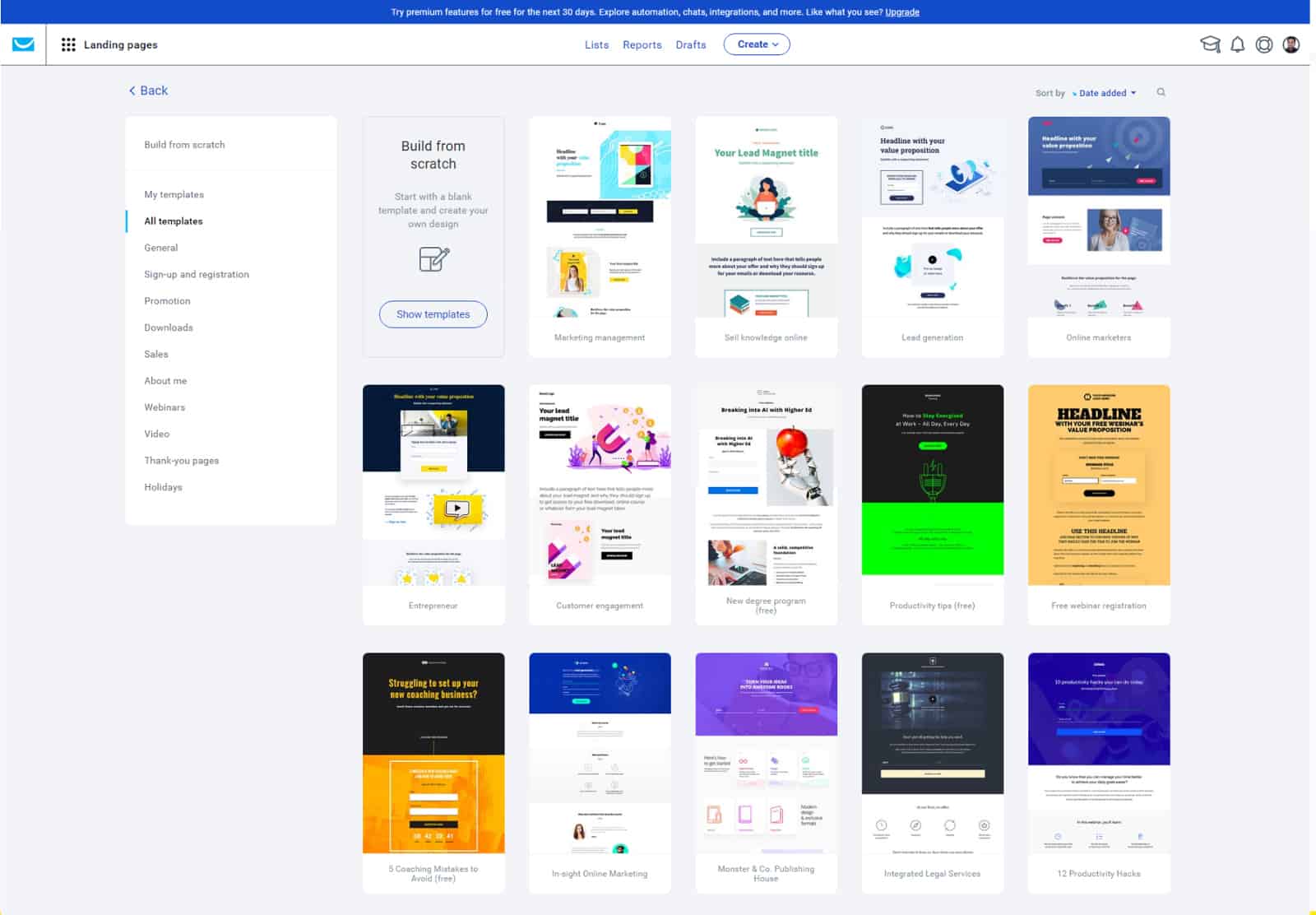 The landing page builder option in Getresonse helps store owners run different campaigns and redirect the users to different landing pages per the utility and goal of different sales campaigns.
Here in the Getresponse landing page builder tool, you can:
Create an endless amount of landing pages to attract new members and sales.
Choose from over 100 free landing page templates, or create your own.
Get access to more than 200 landing page layouts.
Find hundreds of ready-to-use, mobile-responsive templates for converting visitors into leads.
Customize templates with the built-in editor.
10. Forms
Getresponse offers to create two different types of forms, i.e., custom HTML forms that you can design as per your choice with the help of drag and drop editor tools, and Getresponse has a collection of predesigned forms that you can use on your website.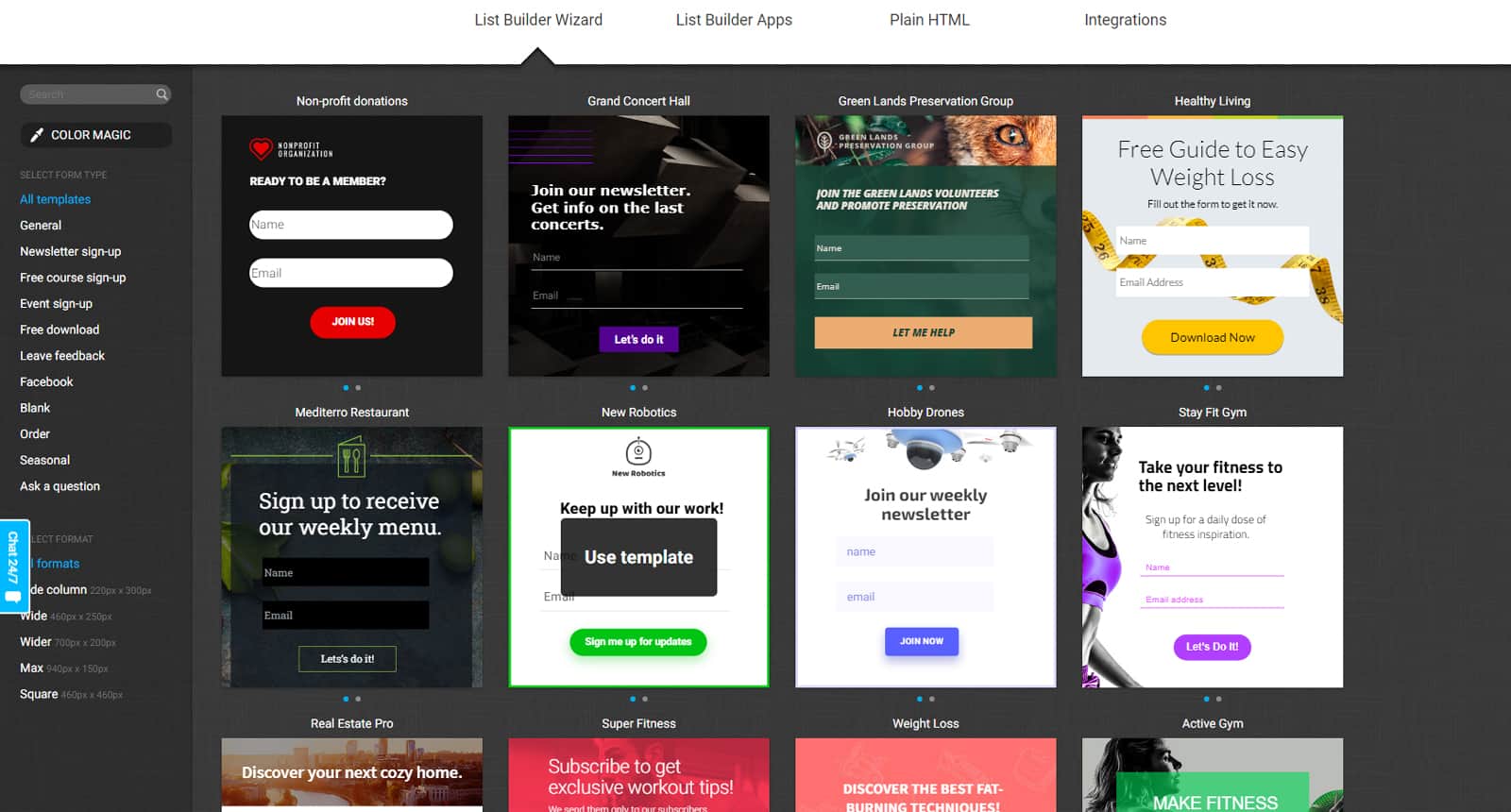 Here is what you can do with the Form features:
Custom registration forms that transform data into customized experiences can help you grow your email list.
With drag-and-drop tools, you can create a form in minutes.
You may get a head start on your form production with predesigned templates. Alternatively, you may start from scratch with your HTML.
You can match the color scheme as your website is designed.
Experiment with various shapes and variants.
To capture useful data, add custom fields.
The mobile optimized option is available.
11. Website Builder
Whether you're a small business owner, freelancer, or entrepreneur, Getresponse's website builder can help you create a professional website that showcases your brand and helps you attract more customers.
With Getresponse's website builder, you can choose from various templates to create a website perfect for your business. You can also add features such as a blog, contact form, and ecommerce store to your website.
Getresponse's website builder is easy to use and helps you create a website in minutes. Get started today and see the difference Getresponse can make for your business.
Getresponse Pricing
Getresponse has four types of pricing plans.
Free Plan – Completely free with all features for the first 1 Month
Email Marketing Plan – $13.3/ per month
Marketing Automation – $41.3 / per month
eCommerce Marketing Plan – 83.3/ per month
Besides that, Getresponse introduced two other different pricing plans for mid and large companies to get better automation email marketing options.
Getresponse Max Plan
Getresponse Max plan enables marketers to get the maximum out of Getresponse. The Max Plan allows marketers to run their eCommerce website with Getresponse. With this plan, marketers can create custom landing pages and campaigns for emails. I've been using Getresponse for quite a while now, and I must say that the quality of their offers and products is good.
Getresponse Max2 Plan
Getresponse MAX2 Plan is a great option for marketers that want to automate their email marketing campaigns. This plan allows marketers to get the maximum out of Getresponse. Max and Max2 plan offers customizable pricing options depending on the company's needs and budget.
GETRESPONSE FOR CHARITABLE ORGANIZATIONS
Discounted plan for charities and non-profits Use GetResponse marketing tools to boost membership, contributions, and exposure.
Get a 50% or 30% discount on every monthly plan to help you get your message through while keeping your budget in check.
Getresponse Support Service
Even if you subscribe to the free lifetime plan, Getresponse provides live chat assistance 24 hours a day, 7 days a week, 365 days a year.
The live chat help system is fantastic and educated. It provides high-quality assistance and guidance. It assists you in achieving a high level of success with your email marketing strategy.
I use Getresponse, and I assure Getresponse has a superb support team available 24×7 via chat.
Whenever you log in to the Getresponse dashboard, even when you opt-in for their free forever plan, you will see a 24×7 chat support button on the left of the web page.
Getresponse also offers email support which is flexible to use email support rather than chatting directly with the customer support team.
Getresponse Pros and Cons
Getresponse delivers a very high-quality email autoresponder service if you pay the bill.
It offers detailed analytics and action taken by every opt-in customer that you can measure from its dashboard.
Pros.
User-friendly setup process.
Customizable list creation for the specific purpose of your business.
Easily segment your customers with their marketing level.
Pre-designed email templates.
Pre-designed website landing pages.
Pre-designed opt-in forms.
Customizable themes
Email autoresponders can be sent on a specific day and specific time to fulfill your need
Cons.
Premium when you will reach 500 contacts
A little high price for the new bloggers or website owners.
No one-to-one calling support
GetResponse Review: Summary
GetResponse has a single platform that includes email advertising, website design, and customer service automation.
Getresponse ranking is pretty good, primarily for the advanced features offered. Their entry plans are affordable and offer NGOs a generous 50% discount.
The company also offers a free forever package with autoresponders, a landing page builder, and unlimited email. So, that's a perfect email syncing solution for Gmail users.
Features At A Glance
Above all, my Getresponse review will help you make an informed conclusion about which email marketing platform is best for you.
Let's take a look at this Getresponse review immediately.
When you don't want to provide your credit card information to a first-time email marketer, Getresponse has a built-in email automation service with a free forever plan.
The most important benefit of utilizing Getresponse is that it is free until you get your first 500 consumers online.
The built-in sales funnel the next fantastic service you'll receive at no cost. Sales will be the most popular way for online moneymakers to market their digital services in 2022.
Getresponse is a great email autoresponder with thousands of features to help you establish a passive online income and execute a successful email marketing campaign.
Conclusion:
If you want to start a business online, what I suggest, is that you must not go for costly web hosts, which you can upgrade later as well.
If you currently run your website with an existing Webhosting you are not happy with, you must go for another best website hosting plan.
There are two different needs, and two types of website hosting services can satisfy your requirement.
I have explained and reviewed the best plans of different website hosting service providers according to their prices, features, customer support, and customer ratings.
You can choose the best plan right for you according to your purpose. I have tested dozens of website hosting services since 2013 as we have run eCommerce digital products services.
I feel not to spend too much when you have just started your online business. If you profit from your online business, then Webhosting will not be a barrier.
You must create content or products that your customers or readers will like and share. Take a businessman-like attitude and calculate Return On Investment on any Webhosting cost you will bear. Go for affordable and reliable website hosting for now and wait for the website or blog to grow.
FAQs
GetRespond Is An Email Marketing Software With Some Marketing Automation Capabilities For Small To Medium-Sized Businesses (SMBs). The Product Offers Attractive Prices And A Good-Sized List Of Appealing Third Parties Integrated With The Product.
Yes, GetResponse helps with a lot of emails. The software is designed for e-commerce and marketing automation. It offers the easiest and most effective way of creating and sending an email. Creating a newsletter, autoresponder, automated funnel, etc., is easy and fast.
Get Response is better than Mailchimp because it has many additional functions and is less expensive. This tool is also user-friendly. Plus, Get Response is much cheaper than paying.