To begin my Sendinblue review, let me look at this well-known email marketing software and discuss its primary benefits and drawbacks Sendinblue.
Specifically, you will know about:
Will 

Sendinblue

 be the right email marketing tool for your business or not?
or
Should you check other better options available on the web?
In this Sendinblue review article, you will know about :
After reading these Sendinblue features, you will get to know will Sendinblue be fit for your email marketing plan or not.
Let's deep dive into the key benefits of Sendinblue.
Disclaimer: After reading this post, I might get a tiny commission at no further cost to you if you decide to buy a paid version. You will find the full affiliate disclosure on my privacy policy page.
What is Sendinblue?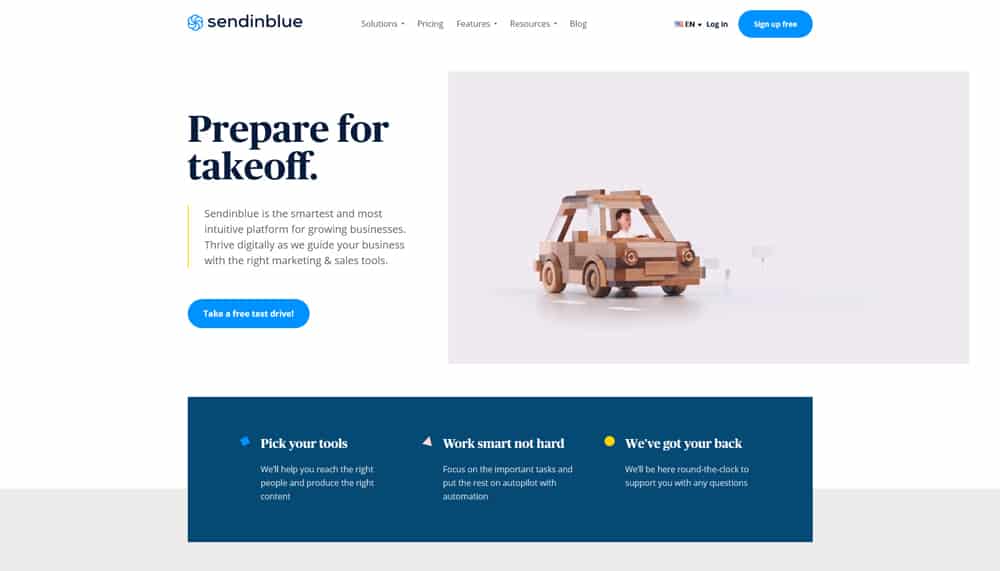 Sendinblue is the most innovative and most automatic email marketing software, which has:
Accordingly, in addition to email marketing features, Sendinblue also provides 
SMS marketing

CRM

Segmentation of your customers

landing page creation feature

Multiple signup forms

Facebook ads

A/b testing tool

Send-time optimization

Real-time statistics

Open & click-through reports data

Customized WordPress plugin
---
Sendinblue Pricing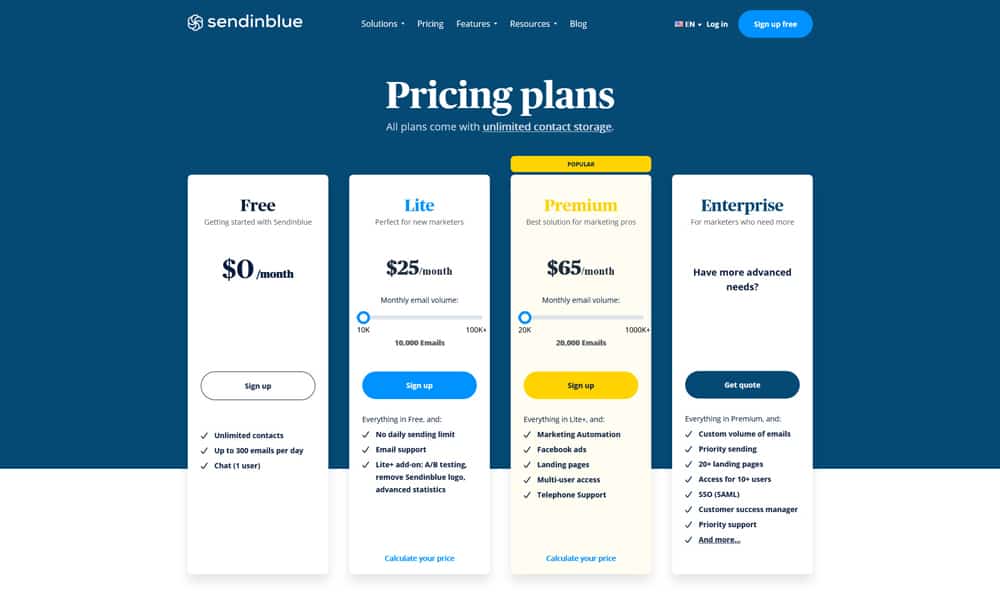 Let's see how much will this cost?
Key differences between plans
The following are the main aspects that all Sendinblue paid plans have in common:
There are no limitations on how many emails you can send.

Email Automation

functions are available even when you sign up for free.

All paid plans have

email support, APIs, and WordPress plugins.

A/B testing

, elimination of the Sendinblue logo, and detailed statistics are all included in each paid plan.
You may have not enough money to start using Sendinblue.
You may have this question in mind.
Can you use Sendinblue for free now?
Ok, let me jump into this part.
Sendinblue Key features
Sendinblue has an extensive feature set as compared to other email marketing platforms as I picked the top ones to write this Sendinblue review –
The platform includes all of the critical features of an email marketing platform, such as the drag and drops part, autoresponders, Landing pages, and analytics as mentioned above.
Let's take a closer look into its key features –
If you compare with other primary email marketing tools available on the web, you will find Sendinblue providing more premium features to its free subscription plan.
The best feature I have already explained earlier is the power to add as many subscribers to your list even when you are on the free plan.
Sendinblue has all of the essential features of an email marketing platform, but is there anything specific that you can use as a website owner?
Let's look at what makes Sendinblue a beneficial email marketing tool for your business.
1. Marketing Automation
Sending an automated email is the same as receiving many opportunities to serve your service or increase your sales.
Email automation is a no-hassle marketing feature that allows you to keep doing marketing while the system takes over the authority to serve your customers while making a profit.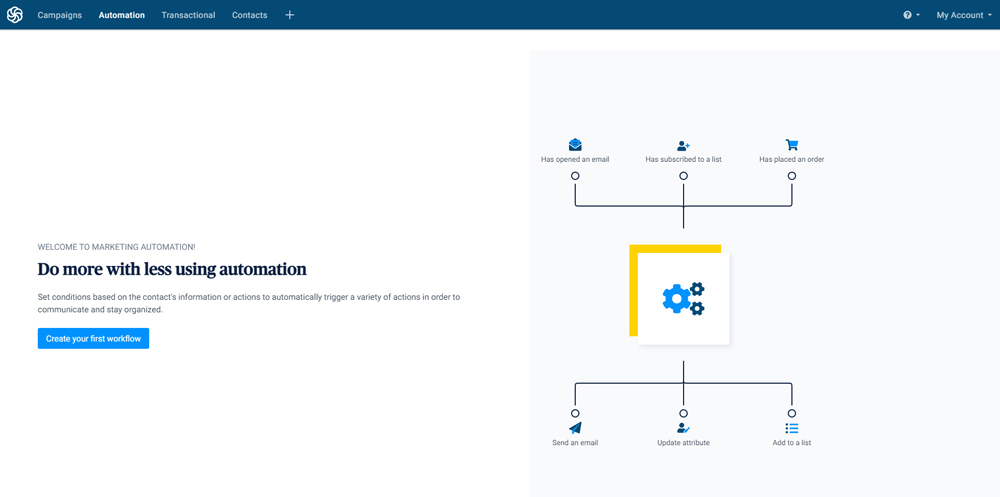 I hope these examples have clarified things for you.
You've developed three separate lists to collect emails for three different categories of clients you'd like to target with targeted marketing campaigns.
2. Transactional email
One of the essential features of Sendinblue has its transactional email feature.
As a creator or sellers, we must need an automated email service.
But,
Sendinblue has come up with one most valuable features we generally forget to find on any email marketing software.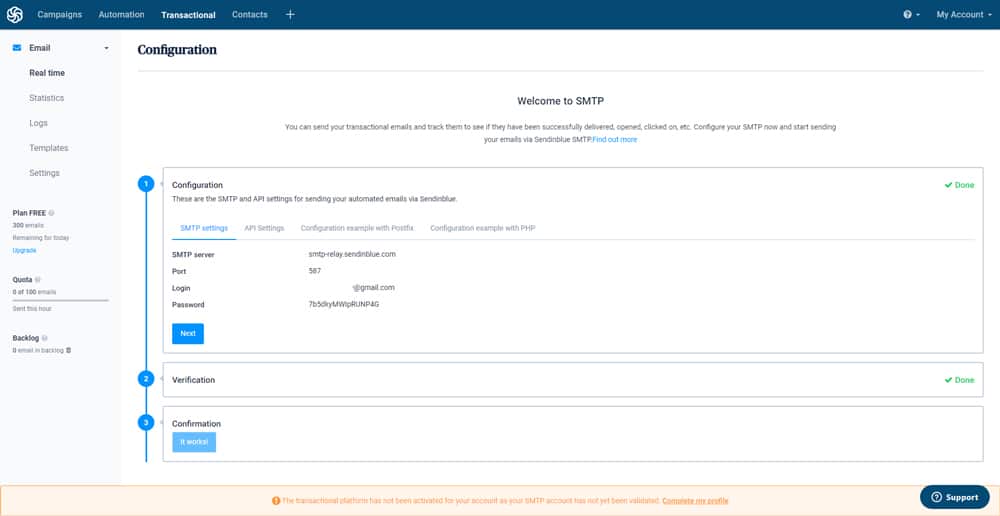 Do you know what it is?
It is an automated email service and emails are automatically delivered when our users
Create an account with our website.

Purchase a product or service from our website

When they forget their password and want to reset

All the emails automation, which is non-promotional emails
All these features are available in the Sendinblue SMTP transactional email feature.
You need to connect the server IP with Sendinblue SMTP. That's it.
All the emails will be sent automatically with Sendinblue SMTP.
Professional readymade templates are available to send with this transactional email feature.
You do not need to worry whether the emails are going to the user's inbox or not.
Sendinblue experts are always available to run this service properly.
Tracking the emails are also available on the Sendinblue dashboard.
Contact Segmentation
Many a time you need to separate the email subscribers into different categories.
When you want to send a separate marketing campaign.
When you want to sell different types of your services to different categories of customers.
So, irrelevant emails can ruin the marketing campaign.
But this problem can be solved.
Sendinblue help us to resolve this issue.
Help us to make segmentation when new users subscribe to our website.
Sendinblue users segmentation feature.
How can you do this?
You can set dimensions when someone subscribes to your lists.
Like making rules based on the
The interest of the subscribers
The activity of the subscribers.
The geographical location of the subscribers.
With marketing automation, this segmentation feature gets its freedom to send more and sell more.
When an automated email is shot to a specific type of subscriber it records the activity and then updates the list based on the action taken by the subscribers.
It is also applicable when you get subscribers from Facebook ads. Email segmentation features works with the Facebook ads retargeting campaign with auto-responding and sending emails dynamically.
3. Email Marketing
You need amazing experience in email marketing.
The key requirements are easy to design, drag and drop design, easy to use and you need to spend less time setting it up.
You need time-saving designs ready to send.
You need super customization which takes less time to design your personalized emails.
If all the above-mentioned requirements you are looking for then Sendinblue fulfills these options with success.
Designing your emails
In Sendinblue, you will get 40+ customized email templates ready to customize.
Even you can start creating your template from scratch with Sendinblue WYSIWYG HTML editor.
When creating your email templates, you can drag and drop your logo, required images, and texts.
After that, you can select the target list to whom you want to send the emails.
With a more targeted mindset, you can choose the perfect segment based on gender, geography, and activity.
A/B testing
Is it the perfect time for every user to open your email?
It helps you convert more of your subscribers to buyers of your services and products.
You can't track the perfect time.
But Sendinblue does it for you.
Yes, Sendinblue has its machine learning feature synchronized with email marketing.
It tests the timing of the opening of the emails, clicks, and actions taken by the customers.
Then it decides who to send and when to send emails.
You are thinking about setting the A/B testing feature from the Sendinblue dashboard.
4. Sign up forms
Most of the time, as a user, we get impressed with the style of the email capture forms.
What you usually do then.
You put your email in return for any offer or promotional copy of any product or services you need.
This incident occurs because of the positioning and design of the sign-up forms.
In the Sendinblue dashboard, you can see such sign-up forms available to use on your website.
On the Sendinblue sign-up form making dashboard, you can:
Design sign-up forms with Drag & Drop tools.

Add fields for your choice.

Add images to show any preview of the product.

Connect to a specific list or segment, whatever you want.

Add radio button, photos, dropdown list.
You can easily add the forms to your website generating the HTML code generator option available in Sendinblue.
Also, If you are using CMS like WordPress, Squarespace, Wix, you can add the plugin available to add on this CMS to embed Sendinblue sign-up forms anywhere you want to add.
In the Sendinblue sign-up form dashboard, you can add the GDPR policy checkbox and add or edit the policy according to your marketing need.
5. Landing Page
Offering the best service or product through a website is the main principle of any online business.
Then you need a great landing page creator to start offering this service.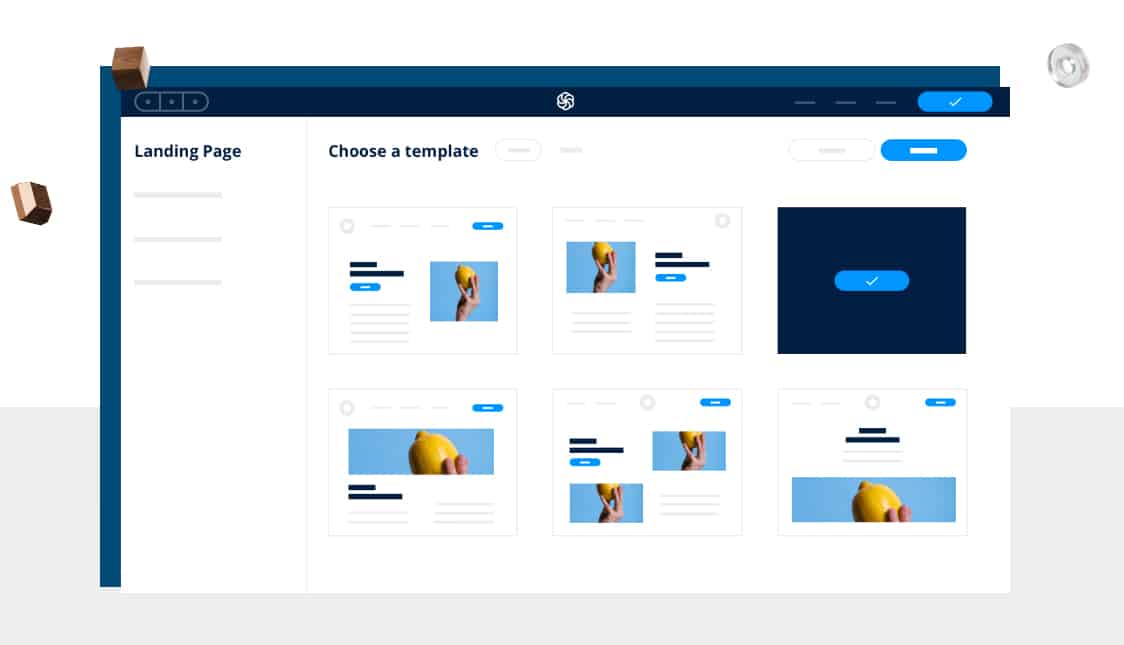 Sendinblue has its unique landing page creation tools and embedding forms options.
Do you know what the best part is?
You can build your required landing page without knowing a piece of code.
You can create an excellent landing page template with the drag & drop landing page creator tool.
What you will do is you have to make a plan to offer your service to your customers.
There are plenty of options you can do with the landing page.
So, you can make money with your website by creating a landing page.
You can :
Promote your products or services.

Sell eBooks.

Collect emails from your visitors and turn them into a buyer.

Sell online digital courses.

Sell affiliate products and make money online.
Other than that, you can send email sequences and send your visitors to different landing pages by creating one by one to help you promote your services to your email subscribers.
It is the best option for you.
The marketing strategy is by creating landing pages in Sendinblue.
How many landing pages can you create when promoting your products or services?
A welcome page.

A product page.

A thank you page.

A follow-up page.
These are 4 simple marketing strategies pages you can create using the Sendinblue landing page builder tool.
Often, you can think if you need a domain to sell your products.
The answer is absolute "NO."
In a modern selling platform, good email marketing service providers give you the landing page options to build a landing page with your products and sell them to your customers without owning a domain.
Otherwise,
You can create a landing page URL by matching it with your domain name when you have your domain or website addresses.
Chat Features
The more you connect with your visitors, the more you can build trust through your website.
Sendinblue chat box integration solves this issue and helps make a beneficial connection with your visitors.
The most significant benefit of a live chat option on your website is recognizing the genuine buyers of your products or services.
When visitors need to connect with you, you might not always answer their queries.
What if you set answers on most asked queries from your visitors via an automated chat service and embed it on your website.
You can do this with Sendinblue chat features.
You can add the logo and business name on the chat page to match the branding of your website.
You, visitors, can raise a query using this chat window.
You have the option of setting automated responses or assigning any person to respond to the queries.
When a query is made, Sendinblue helps you show which page the customer visited and write the message at the current time.
So, it helps you to recognize the issue and from which page the customer has visited.
6. Social Media Marketing
Getting paying customers from Social media is a huge opportunity to build a business with your website.
Not only that, getting regular traffic on your website from social media is one of the most potent options as well.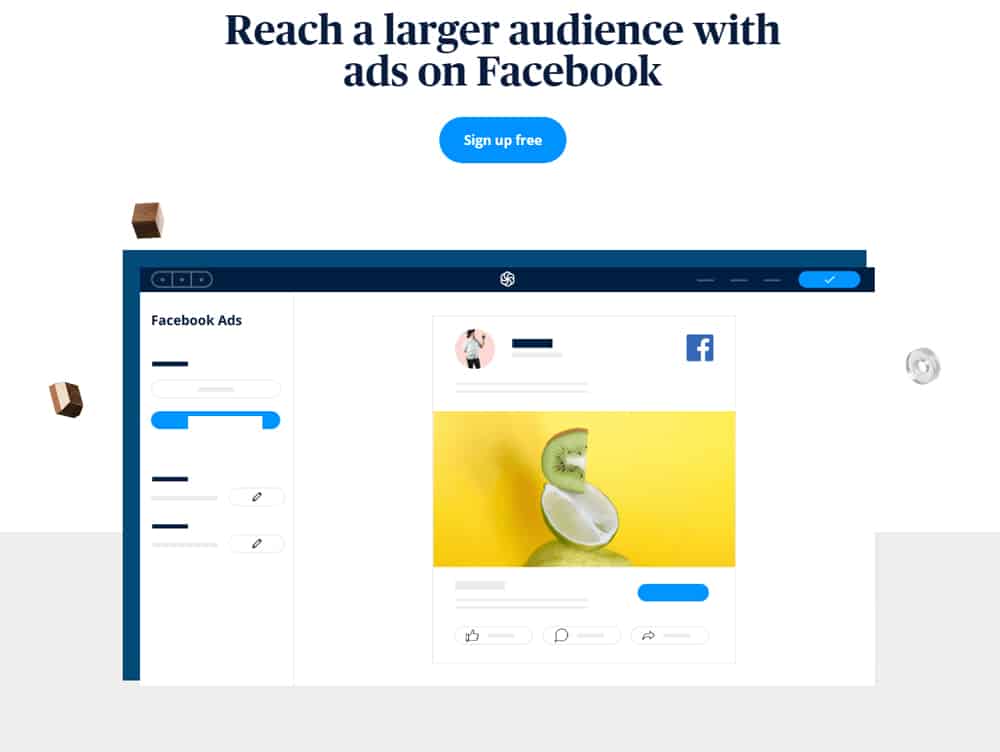 Sendinblue Facebook ad feature is made to help you get paying customers.
Sendinblue lets you create great Facebook ads.
With the Facebook ad feature, you will need to make a product, upload an image, add text to the ad campaign, and then you are ready to publish your campaign on Facebook.
With the Facebook ad feature in Sendinblue, you can promote your product, run a poll on social media or notify about an event on your website through this feature.
Sendinblue lets you help target the visitors' Facebook who has already visited your website.
So, it gives you the additional opportunity to promote your product or services.
Sendinblue Vs Mailchimp
Mailchimp has the largest and most significant market share in the email marketing sector.
Sendinblue's services are nearly identical to Mailchimp's, but Mailchimp charges more for the same features.
Suppose we make a comparison to Sendinblue Vs. Mailchimp, the most common issue that comes infront it's the requirement of email marketing software for a user like you.
Both Sendinblue and Mailchimp has ready-made email template, which you can start using ready-made templates.
Mailchimp has more than 100 ready email templates available, whereas Sendinblue has only 40 ready-made email templates.
In the email automation, part one can not switch their users from one list to another in Mailchimp.
In Sendinblue, the best part is that artificial intelligence does this role properly, and you can easily switch your customer's email from one list to another list.
Mailchimp email automation trigger setting is more complex than Sendinblue. You can not easily manage campaigns, contact data, and email engagement actions in Mailchimp.
Also, in Sendinblue, you can use the email automation feature at a lesser price than Mailchimp.
In delivering the email to the user's inbox, Mailchimp is a little slower to hit users' inboxes than Sendinblue.
Sendinblue provides excellent support when you are on their free plan as well.
But you can not get any support in Mailchimp when you are a free user.
According to the affordability, Mailchimp is exclusive and expensive in pricing.
The only affordability in Mailchimp is in their free plan, and you can grab 2000 email contacts, whereas, in Sendinblue free plan, the number is 300.
Any doubt before purchase?
After reading this Sendinblue review you might have some questions.
The only way you can test Sendinblue is to sign up for their free plan. You can test the most important features that email marketer needs in basic.
If you have any doubt or query you can post a comment below and I will love to answer your query.