Be confident whether you will go for ECWID or you will go for Wix, or Squarespace. It would help if you had an ECWID review. Right?
ECWID is a great ecommerce platform for small to medium-sized businesses. It's user-friendly and has a wide range of customizable options for your online ecommerce store.
One of the most significant advantages of ECWID is its integration with social media platforms like Facebook and Instagram.
So, whether you have an existing website and you need to add a store with it or you want to start a new online ecommerce store from scratch, ECWID is an excellent option for you.
What Is Ecwid?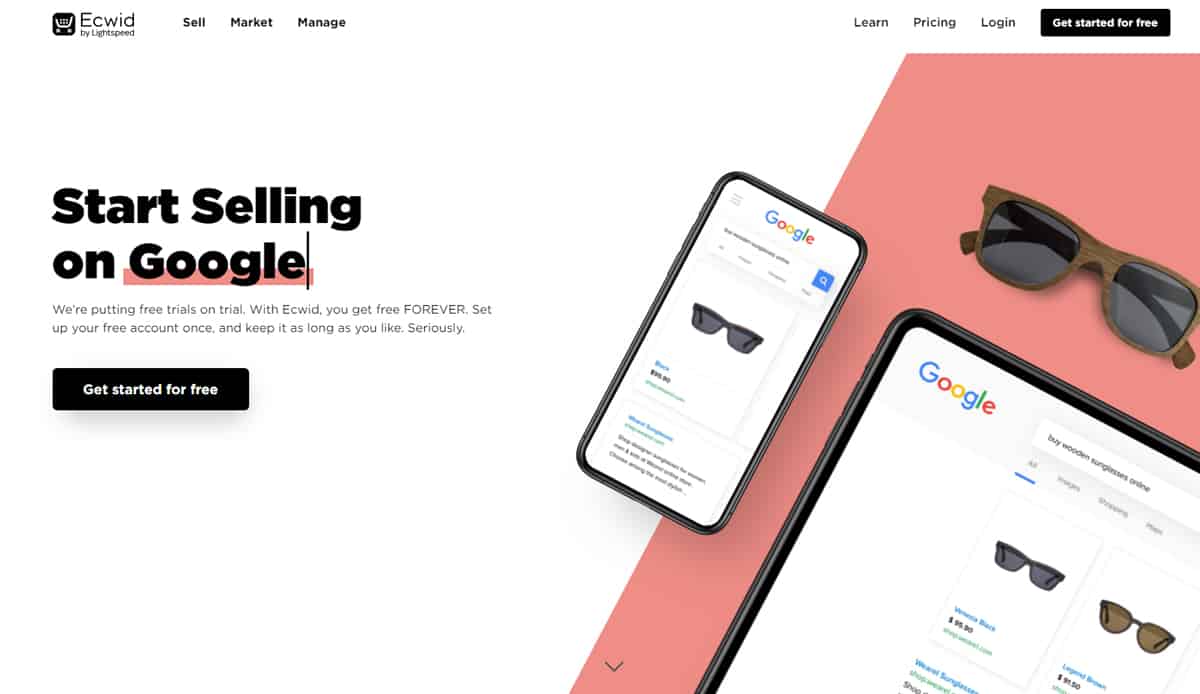 Ecwid is a shopping cart solution that allows businesses to sell online. It is a turnkey solution that includes everything businesses need to create an online store, including a website builder, merchant account, and payment gateway.
Ecwid is suitable for businesses of all sizes, from small to large enterprises.
Ecwid by Lightspeed makes it simple to integrate eCommerce into an existing website or with any social networking site.
You can also manage your marketing, merchandising, and sales from one easy-to-use platform.
How Does Ecwid Work?
Ecwid is an eCommerce platform that has a feature that can combine with your existing website, social media business pages, blogs, marketplaces, and mobile apps.
You can start selling online in just a few minutes with Ecwid. Create an account, add your products, and start selling!
Ecwid is perfect for businesses of all sizes. Whether you're a small business owner just getting started or a large enterprise looking for an eCommerce solution, Ecwid has the features and flexibility you need to succeed.
Is Ecwid Free?
Ecwid by Lightspeed is the market's sole freemium platform, allowing merchants to sell indefinitely on a free subscription.
While other eCommerce platforms nickel-and-dime their users with extra fees for features that should be standard, Ecwid offers a comprehensive set of features for free.
This makes it the obvious choice for small businesses and startups who are looking to get their feet wet in eCommerce without breaking the bank.
Thanks to its robust feature set and scalability, Ecwid is quickly becoming the go-to platform for businesses of all sizes who are looking to take their sales online.
Ecwid Plans and Pricing
Ecwid plans are very affordable for small businesses, and the Ecwid payment processing fees are also very reasonable.
Overall, Ewid is an excellent value for the money.
ECWID's Free Plan : The Ecwid Starter plan is free. This Plan includes up to 100 products, unlimited bandwidth, and basic Ecwid features.
ECWID's free plan allows users to sell an unlimited number of products. ECWID's free plan includes essential features such as a customizable online store, multiple languages and currencies support, and social media integration. However, it does not have advanced features such as abandoned cart recovery, discount codes, and real-time shipping quotes, and it includes Ecwid branding on the storefront.
Besides that, Ecwid has three different paid plans: Venture, Business, and Unlimited Plan.
When you pay monthly Ecwid pricing are
Venture Plan –

$15/per month

Business Plan –

$35/ per month

Unlimited Plan – $99/ per month
You can go to any of the ECWID pricing plans and upgrade your plan or add features.
No problem. You can always upgrade and add additional features as your business grows.
The Key Difference Between Ecwid Plans
If you're considering using Ecwid to build an online store, you might wonder what the key differences are between the different offer plans.
Here's a quick rundown of the main features of each plan to help you decide which one is right for you.
The most basic Ecwid Plan is the Free Plan, which allows you to create a single product store with 10 products. This Plan is perfect for starting or if you have a minimal inventory.
If you need more than 10 products or want access to additional features like discounts and coupons, you'll need to upgrade to one of the paid plans.
The next step is the Venture plan, which supports up to 100 products and includes essential marketing tools.
There's the Business plan for larger stores or those who need more advanced features. This Plan supports 2500 products and comes with a range of powerful marketing and sales features.
Finally, Ecwid Unlimited Plan is for large businesses with high-volume sales.
This Plan gives you access to Ecwid's features, including priority support, and allows you to process an unlimited number of orders.
Additionally, you will have the option to send emails on abandoned cart recovery and product bundles.
Features Of Ecwid
Ecwid is a feature-rich eCommerce platform that offers a wide range of features to help you build and grow your online business.
Ecwid Sell Anywhere Feature
If you're looking to sell online, one of the best platforms you can use is Ecwid. Not only does it allow you to create a beautiful and professional store, but it also has a feature called "Ecwid Sell Anywhere."
This feature allows you to embed your Ecwid store on any website or blog, making it easy for customers to purchase your products no matter where they find you. Plus, Ecwid takes care of all the transactions and payments for you, so you can focus on running your business.
ECWID eCommerce Review : Start Selling Online
Ecwid makes it easy to start selling online with its turnkey solution.
All you need is to sign up for a free account and add your products to your Ecwid store.
Ecwid eCommerce Platform: The Ecwid platform is packed with features to help you run your online business, including:
A user-friendly interface

Powerful product management tools

A built-in payment gateway

Integrations with popular shipping carriers

And much more!
If you're looking for an eCommerce platform that can help you start and grow your online business, Ecwid is a great option to consider.
Sell on social media
Ecwid is a powerful eCommerce platform that enables you to sell anywhere online. With Ecwid, you can add eCommerce to your existing website, create a new online store from scratch, or you can sell your products on any social media site like Facebook or Instagram.
Sell on marketplaces
You can also sell your products on marketplaces like Amazon or eBay. And with Ecwid's built-in POS system, you can even sell in brick-and-mortar locations.
Sell online, in-store, and on the go
Ecwid makes it easy to take your business where your customers are. With Ecwid, you can sell online, in-store, and on the go! Ecwid is the perfect platform for businesses of all sizes.
Sell around the world
Ecwid is an online marketplace that connects buyers and sellers from around the globe. Ecwid offers a safe and secure platform for buyers to purchase items from sellers located in different countries. Ecwid also provides a wide variety of payment methods so that buyers can choose the best payment method for their needs. Ecwid is a great way to sell around the world!
Ease of use
Ecwid is user-friendly and easy to use, even for those with no technical knowledge or experience. Ecwid is intuitive and easy to navigate, so you can quickly and easily start selling online.
Flexibility
Ecwid is highly flexible and customizable, so you can tailor it to suit your specific needs and requirements. There are no limits on what you can do with Ecwid so you can make it.
Ecwid Promote Feature
If you have a store on Ecwid, you know that one of the best features is the ability to promote your products.
Some key features of Ecwid promotion feature
Create low-cost advertisements that drive the right shoppers to your store.

No experience is required.

Spend less time struggling with tech tools.

Delight your customers with insanely good support.
Ecwid Google Advertising
Ecwid Google advertising is one of the best ways to utilize this feature.
You can create an ad in minutes, and it will be shown to people searching for products like yours.
Plus, you only pay when someone clicks on your ad.
There is no minimum spend, and you can set a daily budget that works for
Ecwid Facebook Advertising
Ecwid Facebook advertising can be a great way to get your Ecwid products in front of potential customers on Facebook. You can create ads that target specific demographics, interests, and even Ecwid products that people have viewed on your website.
You'll need to create a business page on Facebook and create an ad account to get started. Once you have an ad account, you can create your first Ecwid Facebook ad.
Creating an excellent Ecwid Facebook ad is about creating compelling copy and visuals that will grab people's attention and get them interested in your Ecwid products.
Ecwid By Lightspeed With Mailchimp Integration
Using Ecwid to sell your products, you can easily integrate it with Mailchimp to create automated marketing campaigns.
With this integration, you can add customers who purchase from your Ecwid store to a Mailchimp audience and then send them targeted emails based on their purchase history.
Ecwid Manage Inventory Feature
If you're looking for an easy way to manage your inventory, Ecwid is the perfect solution. With Ecwid's new "Manage Inventory" feature, you can quickly and easily add or remove products from your store and set inventory levels and track stock.
Plus, our intuitive interface makes it easy to keep track of your inventory, so you can always be sure that you have what you need in stock.
Ecwid Mobile App
Ecwid is a powerful eCommerce platform that lets you sell online. And with the Ecwid mobile app, you can take your store with you wherever you go.
The Ecwid mobile app lets you manage your store from your phone or tablet. You can view orders, add products, and track inventory, all from your mobile device. Plus, you can accept payments on the go with the Ecwid mobile app.
Ecwid Secure Payment Option
As an online store owner, security is always top of mind. You want to know that your customers' data is safe and that their transactions will go smoothly. That's why Ecwid offers a secure payment option for your store.
Ecwid integrates with 50+ payment gateways, and it makes your customers ready to purchase your products with the use of any credit cards with security.
With Ecwid, you can rest assured that your customers' data is safe. We use the latest security measures to protect your store, and our team is constantly working to improve our security system.
Ecwid Shipping Feature
With Ecwid's intelligent shipping function, you can let your customers choose which shipping method would deliver their product the fastest and cheapest.
When you open a shop with Ecwid, you have unbeatable shipping features.
Ecwid's smart shipping calculator allows your customers to select delivery alternatives based on their location and the top shipping firms that deal with Ecwid.
ECWID App Market
The Ecwid app market is a platform for users of the Ecwid e-commerce platform to discover and install additional apps and integrations to enhance the functionality of their online store.
The Ecwid app market offers a wide variety of apps in categories such as marketing, payment gateways, shipping and fulfilment, and customer service.
Some of the apps available in the Ecwid App Market are built by Ecwid, while third-party companies develop others.
Using apps from the Ecwid app market, Ecwid users can add features such as email marketing, social media integration, abandoned cart recovery, and live chat support to their online store.
The Ecwid app market also offers integrations with popular business tools such as Google Analytics, QuickBooks, and Xero.
Installing apps from the Ecwid app market is easy, and users can preview the app before committing to it. Most apps offer a free trial period, after which users can purchase a subscription or continue using the app for free with limited functionality.
Overall, the Ecwid app market is a valuable resource for Ecwid users looking to expand the capabilities of their online store and improve the customer experience.
ECWID Support
Ecwid is an e-commerce platform that provides support to its users through a variety of channels. Here is a detailed overview of the support options available to Ecwid users:
Knowledge base: Ecwid maintains a comprehensive online knowledge base that includes articles and tutorials on a wide range of topics related to using the platform. The knowledge base is organized into categories such as Getting Started, Store Management, Marketing, and Integrations, making it easy for users to find the information they need.
Community forum: Ecwid has an active community forum where users can ask questions, share tips and tricks, and get feedback from other Ecwid users. The meeting is moderated by Ecwid staff and other experienced users, and it is an excellent resource for finding solutions to common problems and learning from the experiences of others.
Email support: Ecwid offers email support to all of its users. Users can contact the Ecwid support team through a form on the Ecwid website, and they will typically receive a response within one business day.
Phone support: Ecwid offers phone support to users on the Business and Unlimited plans. Users on these plans can call the Ecwid support team during business hours for assistance with any issues they may be experiencing.
Live chat support: Ecwid offers live chat support to users on the Unlimited plan. Users on this plan can chat with the Ecwid support team in real time for immediate assistance with any issues they may be experiencing.
Overall, Ecwid provides a range of support options to ensure its users have the help and guidance they need to succeed with their online stores.
Ecwid's Instant Site Feature
Ecwid's Instant Site is a feature that allows users to create a fully functional online store in just a few minutes. With Instant Site, users can select a pre-designed theme, add their products and branding, and start selling online without the need to build a website from scratch.
To use Instant Site, users must sign up for an Ecwid account and follow the prompts to create their store. They can then customize the look and feel of their store by selecting a theme and adding their branding elements, such as a logo and colour scheme.
Instant Site includes all of the features and capabilities of a regular Ecwid store, including managing products, processing orders, and accepting payments. Users can also add apps and integrations from the Ecwid App Market to further customize and enhance their store.
Overall, Ecwid's Instant Site is a quick and easy way for users to set up an online store and start selling online without needing technical expertise or website design skills.
Ecwid Pros And Cons
ECWID has its pros and cons, like any other website builder platform. Here you get to know about the Pros & Cons of ECWID website builder:
ECWID Pros
(Ease of Use, No Monthly Fees, and More )
If you're looking for an easy-to-use, feature-rich eCommerce solution that doesn't break the bank, Ecwid is worth considering. Here are just a few of the many reasons why Ecwid is such a popular choice among online retailers:
Ease of Use: Setting up an online store with Ecwid is a breeze, even if you don't have any technical expertise. Their user-friendly interface and intuitive drag-and-drop editor make it easy to create a professional-looking website and start selling products in no time.
No Monthly Fees: One of the most significant advantages of Ecwid is that there are no monthly fees. You only pay a small transaction fee when you make a sale, so it's very affordable for small businesses and startups.
Rich Feature Set: Despite its low price tag, Ecwid offers all the features you need to run a successful online store. Ecwid has everything you need to grow your business, from automatic tax calculations to built-in social media integration.
Excellent Customer Support: Whenever you need help with anything, Ecwid's customer support team is always there to lend a hand. They're quick to respond and always willing to go the extra mile to make sure you're satisfied.
ECWID Cons
There are a few cons to using Ecwid as your eCommerce platform.
First, Ecwid is a bit more expensive than some other platforms out there. While it does have a lot of features, you will pay for them in the form of a monthly subscription.

Second, Ecwid can be challenging to use if you are not familiar with web coding. While it is not overly complicated, there are some learning curves that you will need to overcome.

Multi-currency functions don't appear to work as advertised. You can set up different currencies, but the prices are all in US dollars when customers go to checkout.

The Point of Sale on mobile devices only works in English. This can be a pain if you have customers who speak other languages.
Ecwid Alternatives
Selling online is a great way to expand your reach and grow your business, but choosing the right eCommerce platform is essential.
Ecwid Vs. Volusion
Ecwid Vs. Volusion is a popular option, but each has unique strengths and weaknesses.
Ecwid offers a free plan with limited features and several paid plans starting at just $15 monthly.
Volusion offers an all-in-one solution with monthly plans starting at $29.
One difference is that Ecwid allows you to add an online store to your existing website, while Volusion requires you to create a new website through its platform.
Ecwid offers more payment options, including PayPal and Apple Pay, while Volusion only accepts credit cards and PayPal.
Both platforms offer various themes, customizable options, marketing tools, inventory management, and customer support tools.
Ultimately, your best option will depend on your specific needs and budget. Consider a free trial or demo of Ecwid and Volusion before making your decision.
Ecwid Vs. Shopify
Another popular eCommerce platform is Shopify.
Shopify offers monthly plans starting at $29, with additional transaction fees for each sale.
One significant difference between Ecwid and Shopify is that Ecwid offers a free plan, while Shopify does not.
Shopify offers more advanced marketing and analytics tools and a more extensive selection of themes and apps.
However, Ecwid offers more payment options and the ability to add an online store to your existing website.
Ultimately, it's essential to consider your budget and specific needs before deciding between Ecwid and Shopify. Try out a free trial or demo of both platforms before deciding.
Ecwid Vs. Wix
Ecwid or Wix is an essential comparison for any e-commerce business owner.
Ecwid offers a robust platform with advanced features, including the ability to sell on various websites and social media platforms and in-person with Ecwid's point of sale system.
Wix offers a more straightforward platform with fewer advanced features, but its website builder offers more customization and design options.
Regarding pricing, Ecwid has a basic free plan with limited features, and their paid plans start at $15 a month. Wix has a free plan, but their e-commerce-specific plans start at $23 monthly.
Ecwid and Wix offer excellent support options, including knowledge bases, forums, and customer support teams.
Ultimately, it's up to the individual business and its needs to decide which platform best fits them. It's always a good idea to try out both options before committing to one.
Ultimately, Ecwid and Wix are both solid e-commerce platforms, and the choice comes down to the specific needs and preferences of the individual business.
It's always wise to try out both options before committing to one.
Ecwid Vs. Bigcartel
Ecwid Vs. Bigcartel is a comparison often made by those looking to start an online store.
Ecwid offers a wide range of features, including integrations with popular ecommerce platforms like Shopify and Wix, as well as the ability to sell on multiple websites and social media platforms.
Bigcartel, on the other hand, is geared towards smaller businesses and limits the number of products a store can have.
Regarding pricing, Ecwid offered a free plan with limited features and paid plans starting at $15/month. Bigcartel, on the other hand, has a flat fee of $9.99/month for up to 25 products, with additional fees for more products.
But Bigcartel also offers a free plan with whichever platform you choose, be sure to carefully consider your needs and budget before making a decision.
Ecwid and Bigcartel have their strengths and limitations, so it's essential to research and weigh the options before committing to one platform.
FAQs – ECWID Review
Is ECWID good for dropshipping?
ECWID offers integrations with popular marketplaces like Amazon and eBay and accessible product, importing, and inventory management.
However, it does not offer direct integrations with dropshipping suppliers or automation features for fulfilling orders.
Dropshippers may manually place orders with their suppliers and update inventory levels on ECWID.
While ECWID may still be a valuable platform for dropshippers, it may offer only some of the functionality that dedicated dropshipping software provides.
It is ultimately up to the individual drop shipper to decide if ECWID meets their needs.
Is Ecwid secured?
At Ecwid, we take security seriously and continuously work to protect our merchants' sensitive information. Our platform is PCI DSS compliant, and all data transmissions are encrypted using SSL technology.
We also have fraud detection measures in place to protect against unauthorized transactions.
Additionally, we provide multiple options for security. Payment Card Industry Data Security Standard (PCI DSS) is an information security standard for organizations that handle credit card and debit card information.
How does Ecwid work?
Ecwid is a platform that allows businesses to quickly set up an online store and integrate it with their existing website. With Ecwid, you can manage product inventory, process payments, track orders, and connect with social media platforms.
Ecwid offers various marketing tools to help promote your stores, such as email marketing and discount codes.
Overall, Ecwid simplifies setting up and managing an online store for businesses.
Summary of Ecwid Review
Ecwid is a powerful eCommerce platform that makes creating and managing an online store easy.
It offers a wide range of features and integrations and excellent customer support.
If you're looking for an easy-to-use platform with all the features you need to start selling online, Ecwid is a great option.