In this detailed Convertkit review, I have mentioned why Convertkit is becoming the best email marketing solution for digital creators.
Let's get started.
Affiliate Disclosure: AmiyaNandy is providing the best reviews and tips on technology, gadgets, software, and services. My editorial team is independent and works hard to bring you the best content. If you buy any product from our affiliate links, I may get a small commission from the sale at no extra cost to you.
What is Convertkit used for?
Convertkit is used for capturing emails from your website visitors or landing page visitors and helps to make better relationships by sending emails through automation.
Collect emails

from visitors and add them to a specific list making them subscribers.

Send premade emails

to nurture the subscribers with offers or customized email newsletters.

The automatic sales funnel

helps to sell your digital products or services.

Customizing emails

marketing for digital creators.
Convertkit is a very convenient tool for digital creators, and this platform promotes themselves by confessing this feature.
Convertkit has built an extensive range of marketing strategies to help you sell digital products like eBooks, podcasts, graphic design items, photography, presets and coaching videos, etc.
In this connection, Convertkit offers two services a creator pro tool and a commerce tool to sell various digital creation services.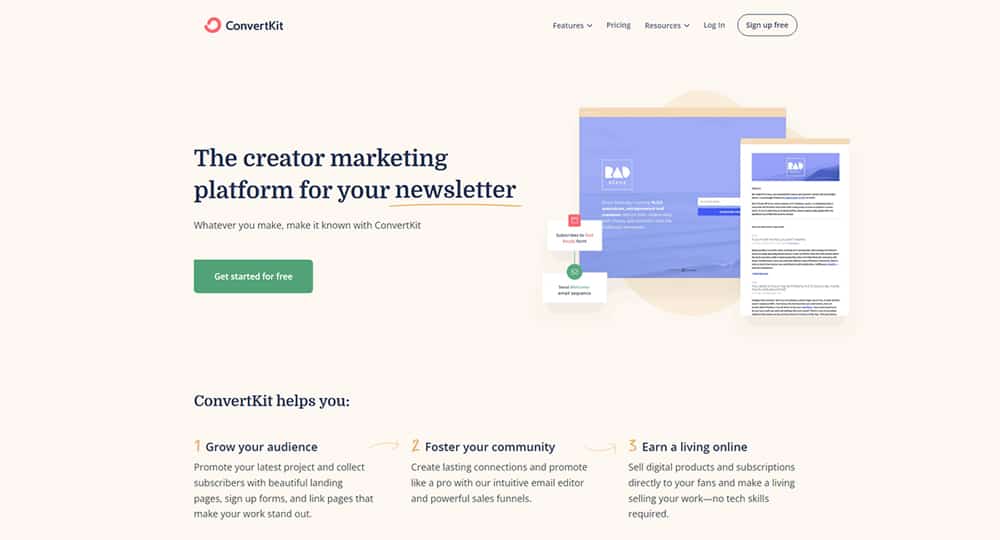 Well, how much does actually Convertkit cost?
Convertkit pricing
There are three pricing plans:
Convertkit Free –

You can subscribe to Convertkit free as long as you reach the limit of 500 subscribers to your list.

Creator plan –

With only spending $9 per month, you can start using the automation email marketing with Convertkit. You need to pay $108 upfront at a time to subscribe to this plan.

Creator Pro Plan –

Get full access to all the features Covertkit provides. You have to subscribe to this plan, and you need to spend $25 per month to avail of this feature.
Conertkit will charge an additional price when you will grow your lists. The cost varies from month to month, and you achieve 300 subscribers. You can make a list of 50000 subscribers with a monthly payment of $2333.
If your subscribers' list goes beyond 500000 subscribers, you will have to contact the Convertkit team to customize your plans afterward.
Convert team will give you discounts with a customized plan for your online business.
You can start building your list by converting it for free by signing up from here.
The Convertkit Plans
The standard features that you can use on any paid plan are :
Send email broadcasts to the specific customers who join separate lists.

Sell downloadable digital products i.e.

eBooks, music, graphic designs elements, Photoshop Addons, Video presets & subscriptions of your services.

Live chat & email support.

Free migration from another email marketing tool.

Automated sales funnels and full

autoresponder.
Basically, in Convertkit pricing plans, there is not a massive difference in the services you can enjoy in a creator or creator pro plan.
I will explain each of the features that helps creators as I go forward in the discussion – but now I will discuss the Free Sign Up plan.
The top-paying plan Creator pro has only four additional features like
Facebook custom audiences to show ads.

Newsletter referral system.

Subscriber scoring.

Advanced reporting.
I will explain each of the features that helps creators as I go forward in the discussion – but now I will discuss the Free Sign Up plan.
Convertkit "Free" Plan
Convertkit offers a very practical free sign-up plan and you can use it to start to build your list and use it on email marketing.Convertkit's free sign-up plan offers very useful features for creators to start growing visitors and engage with them via newsletters.With a free plan, you can create an unlimited number of landing pages to start gaining email addresses.You can send email broadcast messages, offers, newsletters and make a relationship with them via emails.You can stay with the free plan till you collect 1000 email addresses altogether in your lists.With the free plan, you can have all the major features to run your online business and grow your lists.
Start yourFree trial
The free plan exists till your aggregate 1000 emails subscribers.
How does Convertkit's pricing stack up against that of its competition?
Convertkit is the best tool for self-made digital creators, and initially, its introductory price is $9 per month is significantly cheaper than that of its close competitors.
It offers you to aggregate the first 1000 customers for free, and then you will have to pay $25 till you achieve 3000 customers.
Aweber is one of the closest competitors of Convertkit, and with their free plan, you can collect the first 500 customers for free. In Aweber, when you aggregate 501 customers, you will have to pay $26.15 till you achieve 2500 customers. In Convertkit, the price of getting 3000 customers is $41.
In Convertkit, as you grow your lists, the price of getting each email will be lower.
So, as a result, when you go for Convertkit, you can beat your competitors with the upfront price you pay.
Now come to see the features of Convertkit.
Convertkit Key Features
Convertikit is usually made for digital product creators, and in this genre, Convertik rules the market as well.
So basically, as a creator, you have many sales ideas, and you can implement those with regular visitors by making a relationship with them.
The primary query you may have is how Convertkit differs from other email autoresponders.
Convertkit fulfills essential services like email automation and email capturing through visually appealing forms and landing pages.
Convertkit is not a very complex email marketing tool, and let's know its best features.
Automation
Email automation is the essential feature that an email marketing tool should have and which Convertik fulfills very well.
You will have a visual email automation dashboard to set rules for sending and sending emails to your subscribers.
To get emails from your customers and send them targeted emails, email automation in Convertcase does the job perfectly.
As a reference, you can target specific users so that.
Set automated sales funnel emails
Selected automated sales funnel emails.

Set specific email timing so that email shoots whenever a subscriber enrolls to a separate list.

Segregate the users and send them different values through email.
Automations in Convertkit help you get the user's intent after subscribing to your lists.
You can send emails depending on users' actions after joining a list.
An example, you can set actions whenever a user
Open.

Click a specific link to your emails.

Join a detailed list.

Transact and visit a particular page to your website.

Collect data from visitors.
Convertkit allows the creation of automation for its paid members.
You can implement an automation tool even in the basic plan.
Edit your automation email anytime based on the users' indent when you need to change it.
Convertkit automation gives you complete control of what a user does an action you arrange the email based on that.
You can send automatic emails via Convertkit when you add a new post or product to your website.
The features are available when you create a broadcast utilizing your website's RSS feeds. You can schedule an email to be sent to a particular list of subscribers at a specific time.
Check out the examples of Convertkis automation features if you're not sure how to put automation to practical use in your company.
Email automation can always help you and your audience, no matter what industry you're in.
Take a Poll of Your Audience

Launching a new product on your website

when you host a Webinar link with time and date

Sell a product or service

take a clear picture from your visitors through a survey.
If you want to taste this automation feature without spending money, you can go for a free trial.
Email template design tool
Convertkit email design tool is built to customize emails with various design elements as per your choice.
With the Convertkit email design tool, you can customize the video you can send, text stylization, graphics you can add without knowing any piece of coding.
Convertkit email design tool allows you to change the color of the font's background, add your brand logo, and add images on the background of the text.
Convertkit has its predesigned template library, and you can select a template as per your requirements.
You can choose any template from the library, and you can add your custom logo images and change the color of the fonts and styles.
The email you will design using the Convertkit email designer tool is fit for any device, and it helps to load faster as well.
Engaging sign-up forms + Landing Page
Convertkit has its own customized email sign-up forms set up that helps visitors to convert to a subscriber.
You can set up the sign-up forms on a different area of any landing page that captures emails from visitors.
The landing page feature in Convertkit helps build landing pages in a few minutes. So it is easy to turn your marketing idea into reality with the help of the landing page building tool.
Convertkit allows you to segment the visitors keeping them in one list you make. That means you do not need to create multiple lists for different segments of customers.
You can add tags, segment and filter the users and create a separate group of customers when they sign up for a specific list.
After segmenting the customers, you can put them in a separate funnel to sell your product or services via email marketing.
Capturing the email through the landing page, you can send it to a specific page that you can build using the landing page builder tool.
A series of pre-build landing pages are also available to use if you do not have time to build your landing page.
What you can do with a landing page
A landing page in Convertkit not only help you to capture email, but you can do more stuff with a landing page like :
Grab specific data for marketing of your service.

Create a lead magnet to engage visitors.

Automatic redirect them upon sign up.

GDPR compliant forms.

Connect Convertkit with other pro tools
Even you can tell a story by sending a series of automated emails via collecting the email from launching specific landing pages for specific marketing purposes.
Convertkit gives a significant opportunity for online product sellers and coaches who teach online.
If you fall under the second category, you can create excellent sales funnel before selling the course to specific users.
You can make them aware of the courses you are going to launch, you can educate them via sending a series of email sequences.
You can send an email by providing freemium versions of your course and letting them decide to pay for the premium services you are offering.
Advantage for bloggers
Convertkit is the best email marketing tool for bloggers.
As a blogger, you must establish a solid two-way relationship with your visitors for them to learn about your products or services; otherwise, the material you provide on your website will be useless.
Even if you do both the things like selling any product or spreading informational knowledge.
You can build opt-in forms as per your choice and, of course, what suits you well for that particular type of blog page. You can grab the emails by providing a locked post content and embedding a form that the content will open upon receiving the emails from your visitors.
Convertkit is an excellent tool for bloggers when you are using WordPress because a great plugin Convertkit has, to embed any of its premium services on the WordPress website.
Convertkit allows you to embed email forms, landing pages, and other utility tools to your WordPress website smoothly with the help of its plugin.
Sending a freebie in exchange for the emails from your visitors is the best way to increase your email subscribers.
With the help of the Convertkit tool, you can build massive growth on getting emails via embedding emails from on the sidebar, footer, or middle of any blog content as well.
Automated emails and email sign-up forms come to play a significant role in this part of sending freebies and grab emails.
Sell with Convertkit
Convertkit has the feature to sell any product or service without having a website but direct from creating a store into this platform.
It helps to manage the products, and you will be free from maintaining and managing the digital products you want to sell.
By creating the product page on Convertkit, you can sell eBooks, digital downloadable Photoshop templates, vector arts, music, or even digital course online.
With the help of email marketing, automation, and making lists for your customer, you can also advertise the landing pages on different mediums to get customers to sell your products.
You need to create the products, add them to the landing pages and write the description or whereabouts the products which you want to sell online.
Also, you can add the products to the email and redirect the visitors to the product pages via email.
Making a great sales funnel through the Convertkit email marketing platform is easy, and getting in touch with the visitors via different email touchpoints.
Building a list with Convertkit and following up message setting will help you generate sales and growth in a long time.
Creating various pricing options like one-time purchases, recurring payment options, and options to pay whatever your visitors want is easy with the Convertkit commerce tool.
Convertkit all in one dashboard feature help you to track the data of your emails and sales made through other connected apps with Convertkit commerce.
Convertkit offers a payment gateway feature to sell your digital products.
The transaction fees are meager when your user purchases your product from the Convertkit shop, and they can use their credit and debit cards to buy the product from your Convertkit shop. Convertkit is tied up with stripe to provide you best eCommerce solution and email marketing as well together.
With Stripe payment processing, it is hassle-free to sell products with security, and anytime you can refund with a click feature that is built-in on this Convertkit commerce feature.
Convertkit charges 3.5% of the product price and 30 cents for each transaction fee, and you will get paid every weekend of Fridays to your linked bank account.
If you have many subscribers and sell a lot of products through Convertkit, you can upgrade to a Pro member.
Different increasing features such as subscriber scoring, a cutting-edge subscriber referral system, and sophisticated deliverability reporting will be featured in your dashboard for you to monitor and use for better business growth.
Pros & Cons of Convertkit
Pros
Convertkit tool is very user-friendly and easy to build email sign-up forms and landing pages.

High-speed customer service round the clock.

Powerful WordPress plugin and integration with WordPress is straightforward, and you do not need to be a coder to embed the forms.

When capturing emails, you can use different marketing campaigns to tag and segregate customers.

When capturing emails, you can use different marketing campaigns to tag and segregate customers.

Automatic email sending to the non-openers of your emails.

Convertkit charges apply only when new subscriber signs up, and it does not charge for signing up for duplicate subscribers.

The company's management is constantly working on the features that best suit to grow your digital business.

Convertkit is compatible with all the major online marketing platforms.
Cons
On A/B, testing two different campaign types is a bit difficult in Convertkit. You can do A/B testing based on the timing and sender name.

Analytical reviews on Convertkit are complex and not as you can find in Getresponse. Manually you can check the analytical data, but the new analytics system Convertkit made available is chargeable. You have to pay monthly $199 to check all the analytics when you run a campaign.
Conclusion of Convertkit review:
By keeping all the features on a positive note, Convertkit falls under a little costly email marketing software compared to its close competitors.
There is a strong reason behind it.
Do you exactly know what?
Let's discuss why Convertkit charges are higher than its competitors.
Firstly Convertkit is designed to serve a specific group of website owners who create digital products and sell those online.
So, this tool is the market leader amongst digital creators like eBook sellers, course creators, online service sellers, digitally downloadable products creators.
All the products Convertkit offers are precious to digital creators and small business owners. Those are landing pages that convert well, email sign-up forms, making email lists, designing emails, email automation, and selling digital products stripe payment gateways in one dashboard.
It isn't easy to find the exact email marketing tool which only works for the digital creators in mind.
Another most time-based service Convertkit offers GDPR-compliant cookie consent for the landing pages you will create.
Start yourFree trial
The free plan exists till your aggregate 1000 emails subscribers.
Best alternatives of Convertkit
If you consider paying as many Convertkit charges, I have to mention some of the best tools before writing so many good kinds of stuff about Convertkit.
You can consider checking the email marketing tools like GetResponse, AWeber, Mailchimp, and Campaign Monitor.
GetResponse has made a massive comeback with almost the same features that Convertkit offers.Additionally, the two most time-based marketing tools, i.e., Auto Webinar and Sales Funnel GetResponse, have been included with their Plus Plan and Professional Plans.
I have been personally impressed by the sales funnel tool, which is essential to get more sales of the digital products and make a massive list by attracting new visitors.
Any queries before purchase?If you have any doubts before subscribing to Convertkit. You can write your comment or query in the comment box, and I would love to help you choose the best tools that suit you most to grow your business.